DENNEMEYER IP MANAGEMENT SOFTWARE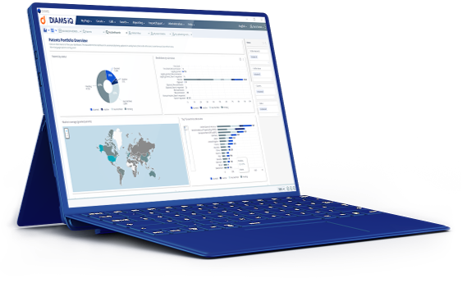 Discover the DIAMS 8.5 update
In this 50-minute webinar, you will see how the DIAMS development team continually improves the performance of the software to enhance your user experience.

Our software consultant provides an introduction and demonstration of these features:
Introduction + Dashboards

Auto-receipt of invoices and renewal instructions for payment service customers
Batch recordal creation for trademarks
Generic import templates for patents, trademarks, and designs
Email-to-DMS (Document management system) – Direct transfer of documents from email with "Straight Through" option
DMS improvements: Previewer and additional attributes, including status

Legal Hold

UP / UPC (Unitary Patents / Unified Patent Court)
Country law rules – Support for prosecution actions and events and autonomous download of new rule packages

This webinar is also available in French, German and Japanese.
Submit the form on the right to watch the webinar in any of these four languages.