Dennemeyer TechTime




LIVE WEBINAR SERIES




powered by Dennemeyer Innovation




Session 3:
Beyond ChatGPT – meet GPTZero, Bard, Jasper, and customized AI models in the patent domain

Save the date! This live webinar will be held on
June 6 at 5 p.m. Central European
ChatGPT is all around.
Are you ready for an engaging and informative webinar that will broaden your AI horizons? We invite you to attend "Beyond ChatGPT – Meet GPTZero, Bard, Jasper, and Customized AI Models in the Patent Domain!"
Our knowledgeable experts, Matthias Pötzl and Christoph Hewel, will guide you through the fascinating world of AI applications in the Intellectual Property industry.
Save the date: 6th of June 2023 at 5pm – this is an event you won't want to miss!
Submit the form to register

for our third session:

Beyond ChatGPT

– meet GPTZero, Bard, Jasper, and customized AI models in the patent domain
This live webinar will be held on
Tuesday, June 6 at 5 p.m. Central European Time
* Check your local time here.
You may already be familiar with ChatGPT, but there are other fantastic tools waiting to be discovered! Unveil the potential of next-generation AI tools like GPTZero, Bard, Jasper, and other customized AI models and learn how they can be tailored to address specific challenges within the IP sector. Our seasoned experts will highlight these innovative AI models, discussing why they might be a better fit for certain applications in the industry compared to ChatGPT.

Attending this insightful webinar will empower you with the knowledge to identify the most suitable AI model for your organization's needs, ensuring you stay ahead in the rapidly evolving world of Intellectual Property.
German and European Patent Attorney
Paustian & Partner

Christoph is a German and European patent attorney working in private practice. He specializes in patenting inventions in the field of machine learning, in particular in computer vision and NLP. In this context, he has initiated several research projects in the area of Machine Learning / NLP (Natural Language Processing) and is co-author of various scientific publications. He thereby focuses on Transformer-based models trained on machine-reading-comprehension tasks in patent texts (e.g., for prior art search).
Co-founder Managing Director of Dennemeyer Octimine
Matthias Pötzl, is a Co-founder and Managing Director of Dennemeyer Octimine, a pioneering patent analytics enterprise that employs artificial intelligence to revolutionize the intellectual property domain. Boasting over a decade of proficiency in Natural Language Processing technologies, Matthias is responsible for the commercial software division of the Dennemeyer Group. As a diligent technologist and strategic thinker, he is dedicated to employing state-of-the-art AI methodologies to refine complex patent analytics processes.
Our webinar

Dennemeyer TechTime

SERIES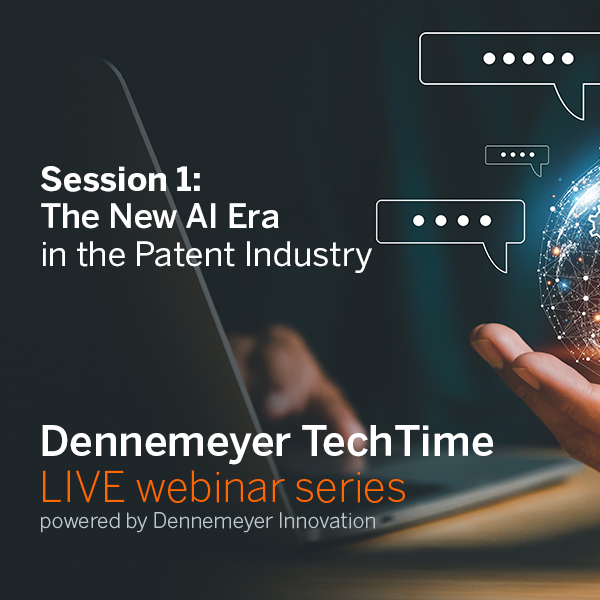 Recorded Webinar
April 27, 2023
The New AI Era in the Patent Industry
During the webinar, we will explore the various ways these models can be used in the patent industry, including patent drafting and analysis, legal document review, and automated question answering. Our panel of experts will also discuss the benefits of using these models, such as increased accuracy, efficiency, and cost savings.
Featuring:

Christoph Van Zyl
Managing Director
Dennemeyer & Associates DAZA

Dr. Christopher Brückner
German Patent Attorney (Patentanwalt)
European Patent, Trademark and Design Attorney
Dennemeyer & Associates

Santiago Rivas
Global head of Analytics, the Client Intelligence Unit (CIU), the Data Science Power House of the Dennemeyer Group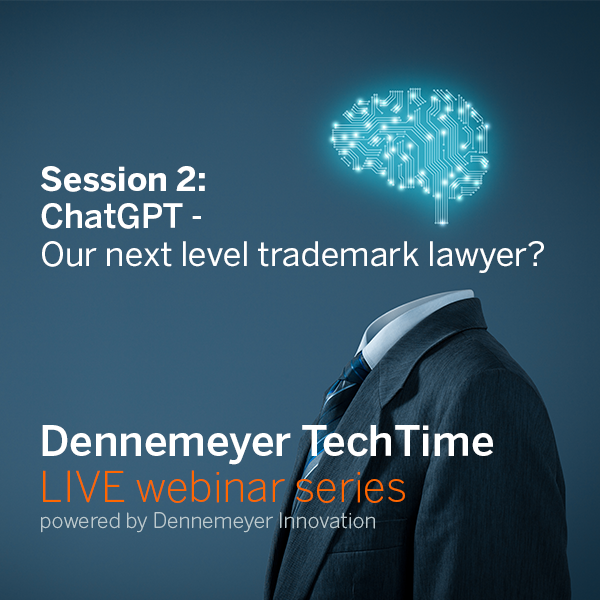 Live Webinar
May 25, 2023 | 5 p.m. CET (10 a.m. CT)
ChatGPT - Our next level trademark lawyer?
Join us for our second Dennemeyer Tech Time, a new webinar series from Dennemeyer Innovation where we take an in-depth look at disruptive technologies and discuss their impact on the ever-evolving IP industry.



Featuring:

Vanja Nedimovic
European Trademark and Design Attorney
Dennemeyer & Associates
Anna Falter
Rechtsanwältin (German lawyer)
Dennemeyer & Associates

Dr. Alexander Kumpf
Product Manager
Dennemeyer Group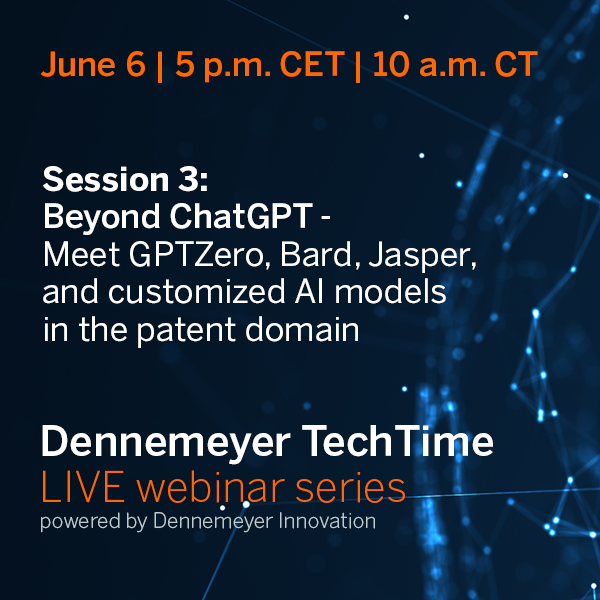 Live Webinar
June 6, 2023 | 5 p.m. CET (10 a.m. CT)
Beyond ChatGPT - meet GPTZero, Bard, Jasper, and customized AI models in the patent domain
Are you ready for an engaging and informative webinar that will broaden your AI horizons? We invite you to attend "Beyond ChatGPT – Meet GPTZero, Bard, Jasper, and Customized AI Models in the Patent Domain!"

Featuring:

Christoph Hewel
German and European Patent Attorney
Patent Attorney at Paustian & Partner

Matthias Pötzl
Co-founder and Managing Director of Dennemeyer Octimine
Managing Director Dennemeyer Technology