White paper
Your guide to the future of
innovation in Europe
Unitary Patents & The Unified Patent Court
The European patent landscape is set to change – radically and quickly. The upcoming Unitary Patent system and associated Unified Patent Court (UPC) have been the spring from which rivers of ink have flowed for several decades. This paper will address the most critical questions regarding Unitary Patents and the UPC to allow you to make the best-informed decisions for your business.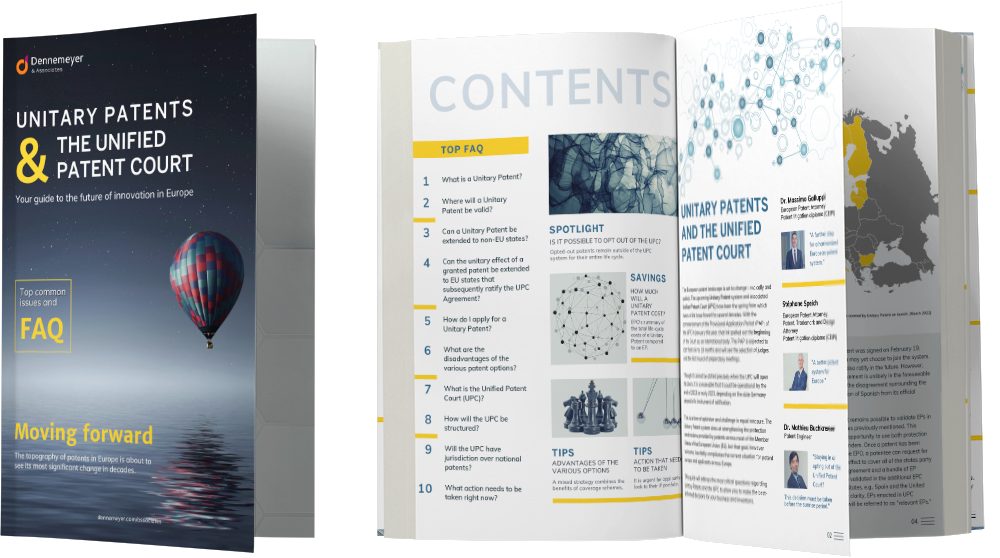 Key to IP
Let's talk about

Intellectual Property
Listen to a lively podcast episode about
Unitary Patents and the UPC
with
Dr. Anthony Carlick, European Patent Attorney and Chartered Patent Attorney (UK) at Dennemeyer & Associates, and James Denner, Business Development Manager at the Dennemeyer Group.
The long-awaited Unitary Patent and Unified Patent Court are just around the corner and promise to revolutionize the innovation scene in the EU.
On the runup to launch, patent owners and applicants need to consider all the options available to them and take immediate action to fulfill their filing strategies.
Discover the opportunities and challenges surrounding this groundbreaking development!
Head to our podcast page

and discover many more exciting topics around patents, trademarks, copyrights and designs.