DENNEMEYER IP MANAGEMENT SOFTWARE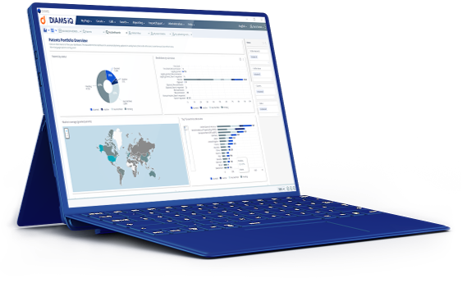 Discover the DIAMS 8.5 update
Webinar program:
00:00 Introduction + Dashboards
03:16 Auto-receipt of invoices and renewal instructions for payment service customers
04:42 Batch recordal creation for trademarks (DIAMS iQ only)
08:05 Generic import templates for patents, trademarks, and designs
14:21 Email-to-DMS (Document management system) – Direct transfer of documents from email with "Straight Through" option (DIAMS iQ only)
17:22 DMS improvements: Previewer and additional attributes, including status
(DIAMS iQ only)
22:33 Legal Hold (DIAMS iQ only)
27:19 UP / UPC (Unitary patents / Unified Patent Court)
39:53 Country law rules – Support for prosecution actions and events and autonomous download of new rule packages
Do you prefer another language?
* UPC opt-out feature:
Note that the UPC opt-out feature undergoes continuous updates to reflect the latest build of the UPC's API.
Hence, the look and behavior shown in this video may vary slightly from your current DIAMS version.
Important note:
At the time of recording this webinar in French, the UPC had applied some final changes to their API in preparation for the start of the sunrise period. These changes made it impossible to demonstrate our opt-out feature in French. We will provide another video in French on this specific feature once we have adjusted our system. In the meantime, you can find an explanation of our UPC opt-out feature in the English version of this webinar, which was recorded prior to the said change.